Property Report - 2022 - Q1
Main Findings
Property market squeeze continues as asking price inflation rises to 12.3% nationwide
Impaired supply and robust demand mean double-digit inflation is likely until at least mid-2022
Record low of 11,200 homes listed for sale nationally on MyHome.ie
There has been no let-up in the property market squeeze for the first quarter of the year, with national annual asking price inflation now running at 12.3%, according to the latest quarterly house price report from MyHome.ie.
MyHome.ie asking prices, Dublin and National
| Region | Median asking price | % Change quarter-on-quarter | % Change year-on-year |
| --- | --- | --- | --- |
| National | €295,000 | +2.4% | +12.3% |
| Dublin | €385,000 | +2.2% | +8.6%% |
| Ex-Dublin | €245,000 | +2.7% | +14% |
The Q1 2022 report, in association with Davy, found that annual asking price inflation accelerated to 12.3% nationwide, and was 8.6% in Dublin and 14% elsewhere around the country.
Meanwhile, the report found quarterly asking price inflation was 2.4% nationally, 2.2% in Dublin, and 2.7% elsewhere around the country.
This means the median asking price for new instructions nationally is now €295,000, while the price in Dublin is €385,000 and elsewhere around the country it is €245,000.
The number of available properties for sale on MyHome.ie fell to 11,200 in March 2022 – down 42% on Q4 2019. The squeeze on supply is most acute outside Dublin, with the number of properties listed for sale down almost 50% compared with pre-pandemic levels.
The average time to sale agreed in Q1 was 3.5 months – indicative of a very tight housing market and a fresh record low for the first quarter of the calendar year.
The number of residential properties that were sold for a price exceeding €1 million rose by 52% in 2021, with Dublin accounting for almost 80% of these transactions.
Residential property market transactions grew to €19.7 billion in 2021, and we expect them to exceed €20 billion in 2022.
Rents rose by 9% in the year to February, now well above pre-pandemic levels.
The author of the report, Conall MacCoille, Chief Economist at Davy, said that double-digit inflation was now likely to persist until at least the middle of the year. "The broad picture of the market in early 2022 remains similar to last year: impaired supply coupled with robust demand due to Ireland's strong labour market."
He said that the inflation forecast for the near-term would likely be beaten, given the labour market's particularly strong performance had contributed to demand. "We had previously forecast Irish Residential Property Price Index (RPPI) inflation to slow to 4.5% in 2022, albeit signalling that we would likely revise that up to a mid-single-digit figure. Our revised forecast is for 7% RPPI inflation through 2022 and 4.5% in 2023."
He added that homes are being sold at 6.5% above asking prices, reflecting the froth in the market. Now, one-fifth of homebuyers who secure mortgage approval is now failing to secure a property, even though the average mortgage approval for Q4 2021 was €270,000 – up 7% on the year.
However, he noted that there were signs for optimism in new instructions data, even though that was still running well behind pre-pandemic figures. "One chink of light is that new instructions to sell of 7,500 in the first 11 weeks of 2022 are well up from 4,800 in 2021, albeit still below the 9,250 in 2019."
But he cautioned that building materials inflation at 18% poses a threat to viability for many development projects and completions in 2023.
Joanne Geary, Managing Director of MyHome.ie, said: "With record low supply levels and huge demand across the country, it is not surprising to see the national asking price inflation rate running so high for Q1. This is not a good sign for the market but given there are several external factors at play – not least rising inflation levels in the economy overall – we may see demand tempered as the year goes on which would serve to cool the market somewhat."
She noted, however, that while stock levels were low in general, stock levels of new listings are now back at 2020 levels which was a cause for optimism.
She added that it was imperative that construction activity was uninterrupted by restrictions for the remainder of the year and beyond in order to increase supply levels.
Full details of the report can be found at www.myhome.ie/reports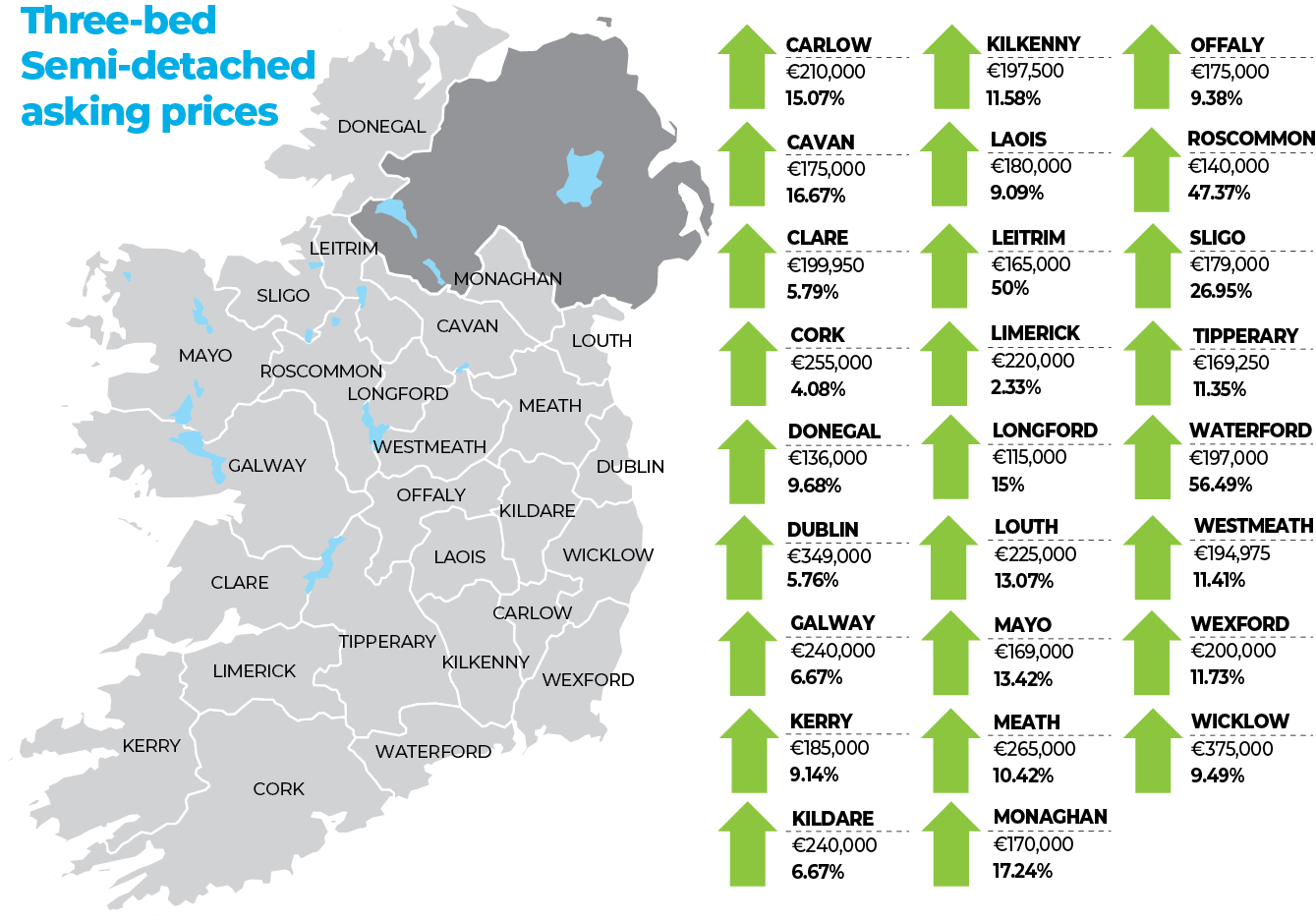 Property Report Team
Conall MacCoille
CHIEF ECONOMIST
Davy Research
Joanne Geary
MANAGING DIRECTOR
MyHome.ie
Graham Neary
CHARTERED FINANCIAL ANALYST